BUILD
Cross-Cultural Partnerships
Margot Ling and partners help business leaders and entrepreneurs in achieving success through building impactful cross-boarder partnerships. Margot's track records in go-to-market strategic partnerships for media and tech clients is a testament to her expertise. With her A.G.I.L.E. (Appreciate, Grow, Integrate, Leverage, and Evolve) partnership approach combines her global business network, Margot is an exceptional guide for clients seeking success in Greater China and Asia. Margot's deep understanding of the Greater China enables her to navigate the complexities of the region.
EMPOWER
Media Communications
With a passion for media communications and over 25 years of experience in digital and entertainment, Margot and her partners specialize in empowering senior executives to maximize their influence through thought leadership and a strong social media presence. They adopt an authentic and audience-centric approach, guiding clients from understanding inner strengths to creating a unique brand – crafting compelling content that resonates deeply with their target audiences, while preserving the authentic tone and voice of each individual client. Margot holds MA and BSSc in Communications.
INSPIRE
Executive Coaching
Margot is an accomplished former regional business development leader for international companies such as Twitter, Dolby, and Fox, with proven track records in establishing strategic partnerships. Margot empowers clients to achieve their goals from mindset, toolsets to skillsets – fostering a growth mindset, equipping them with best practices, as well as adaptive communication tactics. Margot leverages her expertise to inspire individuals and organizations with effective communication strategies and enhancing their influence for success. Margot is currently a senior member of Turningpoint Leadership Asia, one of the leading leadership consultancies in the region.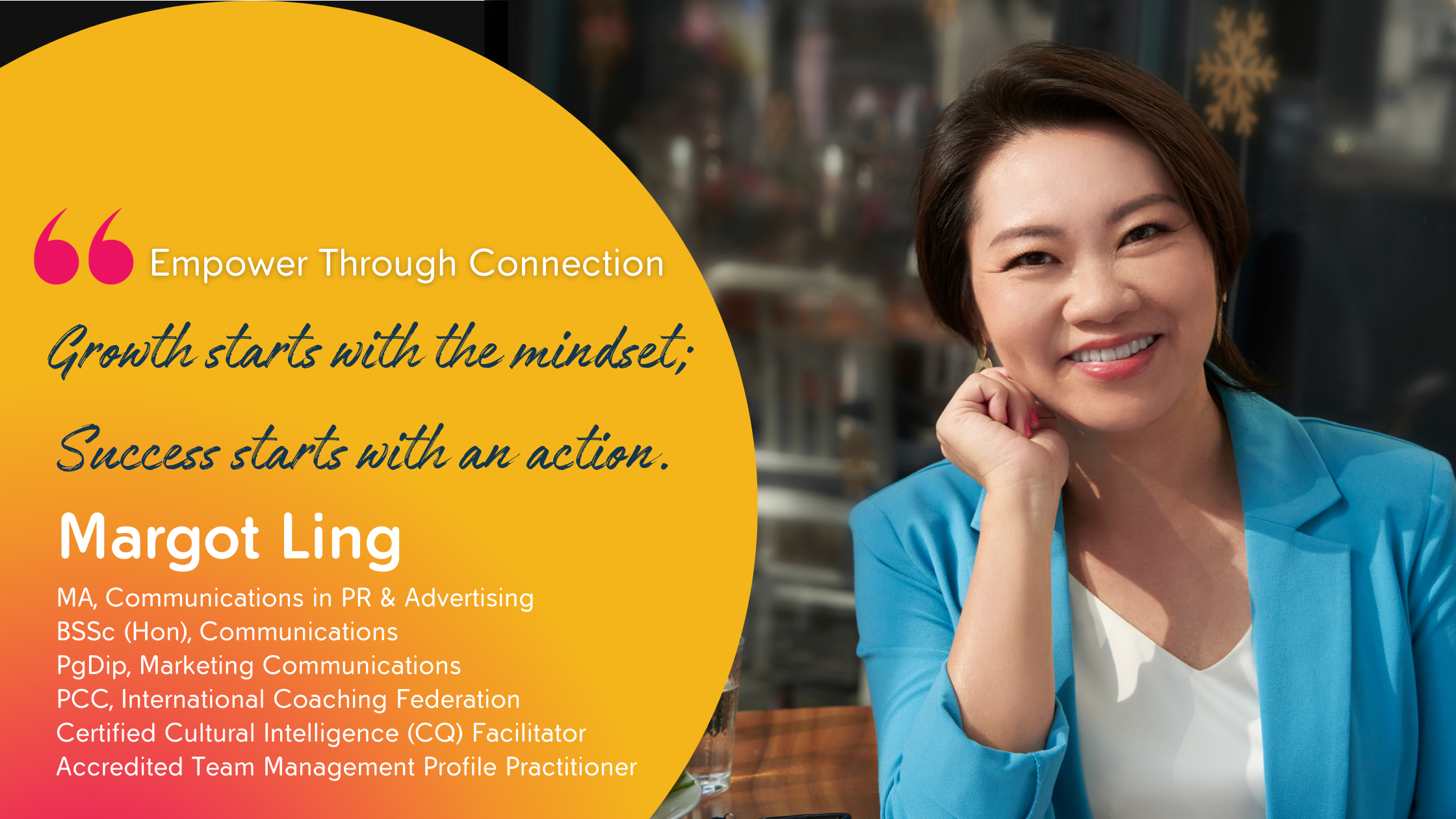 "Margot has substantial experience in global business and media relations. Her solid background working in global media contributed significantly to the training programs designed for top & senior executive management on international communication. With the fantastic feedback after the first training, the client intended to make it the flagship program and extend it as a corporate training series. Margot is an outstanding program designer and extraordinary trainer!"
Bernie Wong, Founder of Social Stand Ltd, Radio Host, Columnist and Lecturer
"Margot and her team delivered excellent program on cross-culture communications for our team in the APMEA region as part of our Key Talent Development Program. We had excellent interactions among team members and enjoyed a lot especially the breakout sessions and competitions. A big shoutout to her and the program!"
Wendy Wang, Senior Vice President, Legal, APMEA, Watts Water Technologies Inc
"Margot is one of the most passionate and executive work partners I have ever met. With the Yuan from scratch, her focus, negotiation art and high-efficiency output under high-intensity work have all impressed me."
Shifeng Wang, Co-Founder & COO, Evomics Medical AI & The Yuan Insights Ltd
"Margot has been part of our design and facilitation team for a one-year online program we just completed for a great luxury company. I am very grateful for what she brought into our teamwork journey: positive energy and impactful presence, learning agility, sharpness, and a high level of professionalism in her preparation and delivery. Her commitment has been tireless, and our mutual trust grew even more."
Veronique Girma, Managing Partner of Turningpoint Asia Ltd.